---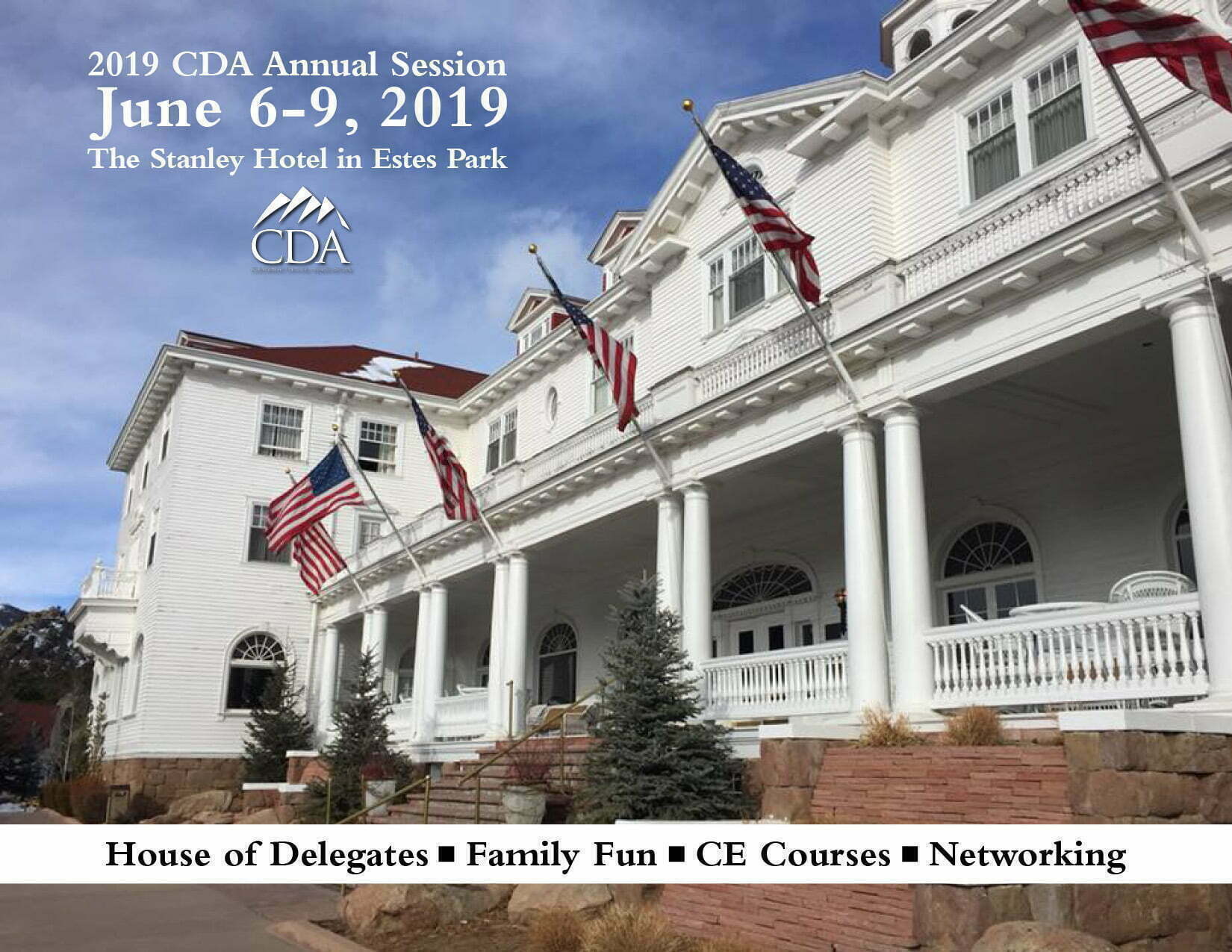 Come to the 132nd Annual Session June 6-9. Attendees can partake in CE courses, network with colleagues and, of course, enjoy one of Colorado's most historic and quaint towns. The CDA Annual Session is the ideal location to connect with dentists in a relaxed setting.
CDA MEETING BROCHURE
---
---
SPEAKERS AND COURSES
---
The CDA offers a range of educational and CE courses for attendees of the Annual Session. We make every effort to present high-caliber speakers. Speakers' presentations in no way imply endorsement of any product, technique or service. The CDA disclaims responsibility for any material presented. Here's what's offered this year.
---
Keynote Speaker: Stan Cobb, D.D.S., M.A.
Friday, June 7, 2019, 8-9 a.m.
Dr. Stan Cobb is a graduate of Baylor College of Dentistry. Stan was the small-town cowboy dentist from Spearman, TX for 14 years before returning to Dallas where he currently serves as associate professor and director of ethics education at Texas A&M Health Sciences Center College of Dentistry.  He has been recognized as a comedian, artist, writer, teacher and humanitarian.
Whether doing dentistry in prisons in Zambia, teaching doctors in Mongolia, visiting with Supreme Court justices in central Africa, making a room full of dentists laugh over lunch at The Drake Hotel in Chicago, or working with dental students waxing teeth or seeing their first patients, Dr. Cobb has done a little bit of everything and has a unique view of dentistry.
Delegates' Luncheon
Speaker: David Maloley, D.D.S.
Friday, June 7, 2019, Noon-1:15 p.m.
Delegates and ticketed attendees are invited to the annual Delegates' Luncheon to network with colleagues and to mentally reset with speaker David Maloley, D.D.S.
Dr. David Maloley started his career as a dental officer in the U.S. Army, stationed in Germany and Italy. He eventually moved to Avon, CO to start Vail Valley Dental Care in 2009. Doing an "against all odds" start-up in a saturated market and a horrible economy taught him many important life and business lessons. He overcame years of personal and financial challenges and turned it into the practice of his dreams with three-day work weeks, 40+ ski days and six vacations per year. Dr. Maloley is a Certified High Performance and Leadership Coach. He is the co-founder of Dental Success Network, co-author of Titans of Dentistry and host of the Relentless Dentist Podcast.
In this session you will learn:
Why work-life balance is actually a dangerous pursuit
How being selfish can help you serve your family, team, patients and community
The four mindsets that keep dentists struggling
The seven habits of high performing dentists
How you can make more, work less, reduce stress AND increase fulfillment in 2019
There is no charge for delegates, officers or registered exhibitors/sponsors. The cost for guests is $45 each. Please indicate on the registration form if you require a vegetarian or gluten free meal.
Saturday Morning CE Courses
---
Hurts So Good! Management of Dental Pain and Appropriate Opioid Prescribing Practices
Presented by Thomas Viola, R.Ph., C.C.P.
Sponsored by Officite
Saturday, June 8, 2019, 9 a.m.-Noon
CE Credit Hours: 3
Course Synopsis: Management of acute dental pain is accomplished through a clinical approach that successfully incorporates opioid and non-opioid analgesics. However, this normally occurs outside the dental office, away from our immediate supervision and we are often faced with the difficult task of managing patient pain while also avoiding adverse outcomes for both our patient and our communities. Thus, it is critical for clinicians to accurately identify the need for pain control and associated risks, and to assess the efficacy of analgesic agents to be administered. This program will provide an overview of effective dental pain management and identification of addiction. Special emphasis will also be given to a discussion of purported uses of cannabis in pain control and appropriate opioid prescribing.
Learning Objectives:
Describe the pharmacology and mechanism of action of opioid and non-opioid analgesics.
Explain the intended role of opioid and nonopioid analgesics in the management of acute dental pain, as well as situations which may preclude their use, based on a patient's underlying medical conditions.
Explore the purported role of cannabis, with and without opioid analgesics, in the management of acute dental pain.
Discuss appropriate prescribing practices for opioid analgesics to utilize in everyday clinical situations.
About the Speaker: Thomas Viola, R.Ph., C.C.P., the founder of "Pharmacology Declassified," is a board-certified pharmacist who also serves the profession of dentistry as a clinical educator, professional speaker and published author. Tom is a member of the faculty of 10 dental professional degree programs and has received several awards for outstanding teacher of the year. Tom has presented hundreds of continuing education courses to dental professionals, nationally and internationally, in the areas of oral pharmacology and local anesthesia and is well-known for his regular contributions to several dental professional journals. Through his informative, humorous and engaging live seminars and webinars, Tom has earned his reputation as the go-to specialist for making pharmacology practical and useful for all members of the dental team.
Saturday Afternoon CE Courses
---
Lunch and Learn! Opioid Alternatives for Treating Dental Pain Forum
Presented by Jennifer Goodrum
Saturday, June 8, 2019, 12:15-12:45 p.m.
Course Synopsis: Be a part of the opioid discussion in Colorado. The CDA seeks your expertise and feedback regarding pain management guidelines for dentistry. This input session will help the CDA advocate on your behalf with Colorado policymakers.
HOUSE OF DELEGATES
---
The CDA Annual Session is a great opportunity to get involved with organized dentistry. Volunteer to be a delegate today or run for an officer position.
SOCIAL AND NETWORKING EVENTS
Welcome Wine and Cheese Reception, June 6, 4:30-6:00 p.m.

Unwind at the Welcome Wine and Cheese Reception at The Stanley Hotel. This is a terrific way to start your weekend at Annual Session. Sponsored by Great Western Bank and Patient News.

Continental Breakfast in the Exhibit Hall, June 7, 7:00-9:00 a.m.

Annual Session attendees are welcome to enjoy a continental breakfast in the Exhibit Hall.

Delegates' Luncheon with Speaker David Maloley, D.D.S., June 7, Noon-1:15 p.m.

Enjoy lunch with colleagues while listening to the "Relentless Dentist," Dr. David Maloley. Dr. Maloley is a dentist in Vail, CO, best known for his Relentless Dentist Podcast and book, "Titans of Dentistry: How the Top Performers Think and Act Differently." This lunch will be in the Stanley's famous Concert Hall. Sponsored by Metro Denver Dental Society.

Dessert in the Exhibit Hall, June 7, 1:15-2:00 p.m.

After lunch, delicious desserts await in the Exhibit Hall.

CDA Foundation Bitte Geben Biergarten, June 7, 5:00-7:00 p.m.

Don't miss the CDA Foundation's beer garden of giving. Grab a stein and sample some of Colorado's finest brews. Proceeds fund the foundation's scholarship endowment that supports outstanding CU School of Dental Medicine students. Sponsored by Commerce Bank and the CU School of Dental Medicine. Beer generously provided by Estes Park Brewing, Oskar Blues and Copper Kettle Brewing Co.

New Dentist Committee Party and Ghost Tours, June 7, 7:00 p.m.

New dentists (those 10 years or less out of dental school) are welcome to attend the CDA NDC after party and ghost tour. The party continues after the beer garden and ghost tour tickets are available for those who register early. Learn about the whispers in the walls, spirits of the Stanley family and paranormal activity that still occurs, during this haunted property tour.

CAPD Happy Hour, June 8, 4:30-6:30 p.m.

The Colorado Academy of Pediatric Dentistry invites its members and their families to enjoy a happy hour reception following CE seminars.

The Stanley Hotel Ghost Tour, June 8, 5:00 p.m.

Learn about the whispers in the walls, spirits of the Stanley family and paranormal activity that still occurs, during this haunted property tour. This is a private tour for Annual Session guests; please register through the CDA. The cost is $27. (Public tours are also available during the day and night and can be arranged by calling 970-577-4014.)

ACD, ICD, PFA Breakfast, June 9, 8:00-9:30 a.m.

The American College of Dentists, International College of Dentists, and Pierre Fauchard Academy invite their members to a breakfast and discussion event. Cost is $35.
---
EXHIBITORS AND SPONSORS
---
We invite you to be an exhibitor or a sponsor at the Annual Session June 6-9 in Estes Park. Your participation is important to us. Take this opportunity to show Colorado's dental leaders what you have to offer.