Colorado Dental PAC (CODPAC) and Colorado Dental Small Donor Committee (CDSDC)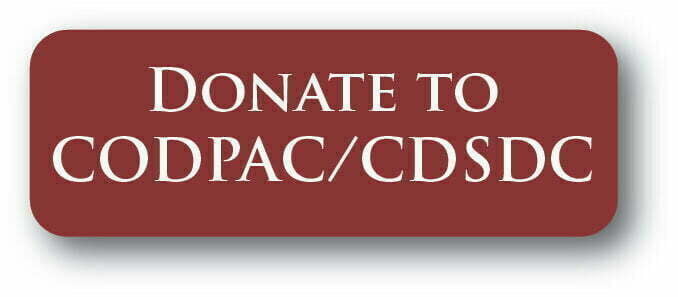 About CODPAC
CODPAC is a political action committee (PAC) that raises money to support state legislators who understand the importance of dentistry and are committed to the oral health of Coloradans. CODPAC dollars are the general fund used to educate legislators on dental issues and support legislators who back dentistry's key issues.
2015-2016 CODPAC Giving:
Amount Raised:
Number of Contributors:

$15,450
287
About CDSDC
Given the significance of dentistry's upcoming political issues, in 2013, the CDA created a new type of political giving organization called the Colorado Dental Small Donor Committee (CDSDC). Individual contributions to a small donor committee are limited to $50 per year, per person. But, a small donor committee may give a candidate more than 10 times more than a regular political action committee, like CODPAC. CDSDC dollars are used to support legislators who have gone above and beyond their peers to support dentistry – dentistry's best legislative champions. CDSDC has grown to be a notable player in Colorado's healthcare political giving landscape.
2015-2016 CDSDC Giving:
Amount Raised:
Number of Contributors:

$14,571
290
Both CODPAC and CDSDC play a critical role in increasing dentistry's prominence at the state Capitol. Partnering a small donor committee together with CODPAC positions dentistry among a handful of elite political influencers in Colorado healthcare.
To maximize political influence, Colorado Political Giving contributions are split between CODPAC and CDSDC, with the first $50 given in a calendar year going to CDSDC and any remaining state political contributions (up to $575 per 2 year election cycle) going to CODPAC. If you would prefer a different allocation for your political contribution, simply contact the CDA at 303-740-6900. Join us in making a contribution using the button at the top of the page.
Election Support for Legislators
Each election year, following the state legislative session, the CDA conducts a screening process to evaluate all candidates running for state legislative office. During this process, the candidates complete a questionnaire on key dental issues and participate in interviews with CODPAC leadership. This process helps determine what level of support the candidate will receive. If a candidate chooses not to participate in the interview/questionnaire process, he/she is not considered for an endorsement or contribution. After completing the candidate evaluation process for 2016, CODPAC contributed $17,500 to support friends of dentistry who are seeking seats in the state legislature. The small donor committee contributed an additional $20,500.
---
2017 Legislative Agenda

The 2017 state legislative session will bring more critical issues for dentistry, including continued discussions about dental access and workforce, conversations about the sustainability of Medicaid dental programs, and efforts to reform dental benefits.
2016 Legislative Accomplishments
In 2016, your political contributions worked to influence state legislators to:
Clean-up a Colorado Dental Board rule to ensure dentists with inactive (and retired) licenses don't need to carry liability coverage.
More than quadruple that amount of dental loan forgiveness funding for dentists serving in rural and underserved areas from $200,000 to $875,000.
Create a new $1,000 state tax credit for dentists in rural areas that precept dental students.
Protect the recently added adult Medicaid dental benefit and dental rates in Colorado amidst severe budget constraints.
2015 Legislative Accomplishments
In 2015, your political contributions worked to influence state legislators to:
Protect dentists from insurer rating systems that calculate ratings solely based on treatment fees. The bill, HB 1191, takes effect in August 2015. All insurer rating systems for dentists will be required to comply with protections and fairness standards outlined in the bill at this time.
Authorize dental hygienists to perform interim therapeutic restorations (ITR) subject to appropriate training, experience and supervision requirements. The bill, HB 1309, takes effect in August 2015. The ITR program for dental hygienists is a five-year pilot program that will be evaluated by the state legislature in 2021 for efficacy and any needed adjustments.
2014 Legislative Accomplishments
In 2014, your political contributions worked to influence state legislators to:
Protect your practice and enhance professional standards during a complete legislative review of Colorado's Dental Practice Act.
Prevent efforts to authorize dental mid-level providers.
Increase reimbursement rates, add an adult denture benefit and create financial incentive programs for dental Medicaid providers.
For additional information on your legislator's voting record, use Lookup Your Legislator link and enter your home ZIP code or address. This will allow the system to find your local legislators. Then click on the name of your state representative or state senator. Click on the "Votes" tab of your legislator's record to view his/her voting record on key dental issues.
Please Note: CODPAC and ADPAC raise money to support state and federal legislators who understand the importance of dentistry and are committed to the enhancement of oral health. CODPAC and ADPAC are designed for CDA members only. Prohibited contributions will be returned. All donations to ADPAC must be made from personal accounts. Contributions from corporate or business accounts cannot be accepted. Contributions to CODPAC and ADPAC are not tax-deductible. Contributions are strictly voluntary and members can choose not to give without threat of reprisal or retaliation. The FEC and secretary of state require that certain information on each donor (name, address, occupation, name of employer) be collected and reported to the agency.