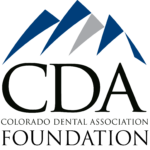 The CDA believes in giving back to the community through its charitable efforts. That's possible because of the CDA Foundation, a 501(c)3 organization, that supports the CDA's access-to-care agenda and Dental Health Matters efforts to increase discussions about oral health and the dental profession in Colorado communities and advocate for smart improvements that increase access to dental care.
---
APPLY FOR A GRANT
---
Semiannually, the CDA Foundation awards monetary grants to 501(c)3 organizations dedicated to improving access-to-care. Nonprofit organizations can download CDA Foundation Grant Application. The next submission deadline is Sept. 1, 2023.
---
Donate to the Foundation
Help the CDA give back to members of Colorado communities and support the future of the oral health profession.
Give Today
CONTACT THE CDA
If you have questions about donating to the foundation or applying for a grant, contact Julie Collett at julie@cdaonline.org.