By Dede Laugesen
Thirty Colorado Springs Dental Society (CSDS) dentists, and 60 assistants and community members volunteered their Saturdays on Dec. 19 to screen about 300 children at the annual Bob Telmosse holiday giveaway in Colorado Springs, Colo. An estimated 3,000 children from a variety of socioeconomic backgrounds attend the event each year to receive donated toys, bikes and food for Christmas.
---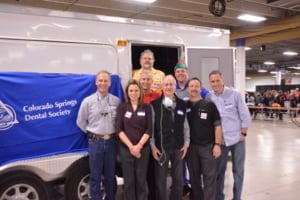 The dental team helped to identify dental issues in kids, and direct their parents and/or guardians to free and affordable options in the Pikes Peak and southern Colorado regions before problems get out of hand.
"We see a lot of children of the working poor," Dr. Jeff Kahl said between examining patients. "Many of them have parents who work to pay the rent, buy groceries and clothes, and then, at the end of the month, have nothing left for dental checkups and care."
Unlike adults, kids don't complain a lot about dental pain before problems become severe.
"Adults are much more sensitive to tooth pain, so they tend to respond to it much sooner when they experience it," said Dr. Kahl, a pediatric dentist in Colorado Springs. "Kids are not good reporters of dental problems. By the time they are complaining about pain, they are usually at the point of having a pretty serious dental infection."
Orthodontist Dr. David Hamula, who practices in Monument, said he worries about undetected dental problems becoming systemic infections that can damage organs including the heart.
"It is priceless to be able to give these families a way to manage these problems before they get worse," Dr. Hamula said.
Among the children screened was Wanda Trujillo's young nephew, Sean, whose family is without conventional means to pay for dental care. "We are very thankful for this," Trujillo said, while receiving referrals to an array of assistance programs.
"We are seeing a real need in the area," said Sharyn Markus, executive director of CSDS. "Many of those in need contact us and say they do not qualify for Medicaid. I hear things like 'I make $18 too much to qualify.' The problem is that $18 does not do much to help them pay for dental care if they don't know about other options."
Dr. Gary Field, president of the Colorado Dental Association and a general practitioner in Colorado Springs, hopes the screenings at the Bob Telmosse event will help educate people about options. Regardless of their circumstances, he said, they have access to care.
"There is a misconception that if you don't have insurance, or you're not part of Medicaid, you can't see the dentist," Dr. Field said. "We need to get the word out that dentists can be affordable. We work with people. Our work comes with high overhead, but it is never about money. It is about taking care of people."
Even those who don't live in cities or large towns have a new option. Dr. Arnold Cullum, a prosthodontist in Colorado Springs, displayed his new mobile dental trailer at the Telmosse event, explaining he will take it to rural areas in Colorado to care for people who live hours from the closest dental practices.
Sharon Fabrizius, clinic coordinator for Kids in Need of Dentistry's Colorado Springs chapter, handed out a three-page list of dentists in the Pikes Peak region who accept Medicaid, a two-page list of dentists who focus on treating children, and one-page list of organizations that provide financial assistance for dental care.
"Whether most people understand it or not, they can obtain dental care," Fabrizius said. "We just need to continue educating, and spreading the message 'you can have access,' and tell people how to get it."