May 5, 2011
In this issue:
– KIND Wins Funding Determined by Public Vote
– BBCDS Weekly Lunch
– Highlands Ranch Practice Helps Community/Local MOPS Event
KIND Wins Funding Determined by Public Vote
Kids in Need of Dentistry (KIND) recently won $20,000 for their mobile dental clinic through the national Tom's of Maine 2011 Dental Health for All program. Determined by public vote, KIND and four other 501(c)3 non-profit clinics won the $100,000 prize to split for their mobile programs that offer critical, easy-to-access dental care in local communities.
KIND thanks the Colorado community for casting its vote in support of their nomination. The money received will go toward furthering their mission of providing high quality comprehensive dental care and education to kids in need throughout Colorado.
BBCDS Weekly Lunch
On March 29, 2011, CDA President Dr. Pasco Scarpella, attended the Broomfield Dental Lunch Group, which has met at a local restaurant every Tuesday since the early 1970s.  The group gets together to network with colleagues, discuss current events and talk about cases.  Dr. Scarpella was pleased to recognize Dr. Samuel Novak, who at 81 is the most senior member of the group and his longtime mentor.  Dr. Novak graduated from the Creighton School of Dentistry in 1957 and continues to practice dentistry in Broomfield with his son-in-law Dr. Lee Gerry.  Dr. Novak is a past president of the Boulder/Broomfield County Dental Society and has served as a delegate to the CDA House of Delegates.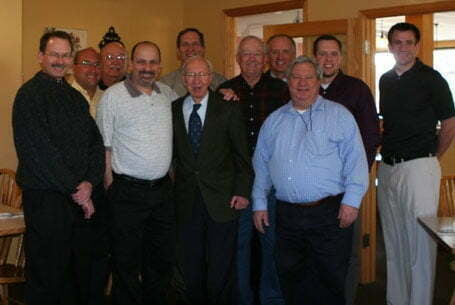 Pictured:
Front Row (left to right):  Dr. Bill Davis, CDA President Dr. Pasco Scarpella, Dr. Sam Novak and Dr. Tom Maier.
Back Row (left to right):  Dr. Bruce Wetmore, Dr. Tom Nale, Dr. Mike Scheidt, Dr. Bill Ayers, Dr. Joe Dankey, Dr. Brian Bohman and Dr. Robert McBride.
 
Highlands Ranch Practice Helps Community/Local MOPS Event
Colorado Kids Pediatric Dentistry (CKPD) – Dr. Lisa Fox, Dr. James Norwood and Dr. Patrick Wilson – donated 500 drawstring backpacks to the Cherry Hills Community Church Mothers of Preschoolers (MOPS) groups in April.  The bags were used as giveaways to attendees of the MOPS annual consignment sale fundraiser – an event that benefits the organization and surrounding community.  MOPS is an organization that helps mothers connect with other mothers to create a support network.  The group recently contacted the CDA to voice their appreciation of the Highlands Ranch/Castle Rock dental practice for its ongoing willingness to help the community.  Last year, CKPD donated 300 toothbrushes to the event.